Welcome to
Charity's Closet
If you would like to contact me regarding any of the clothes below, please send e-mail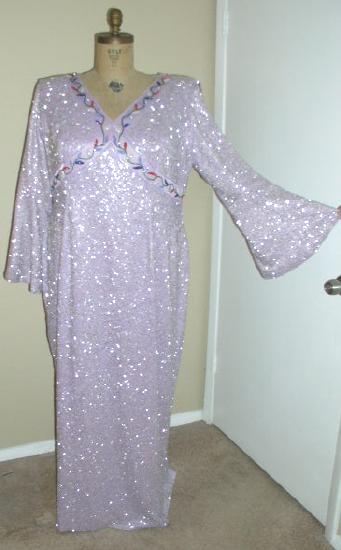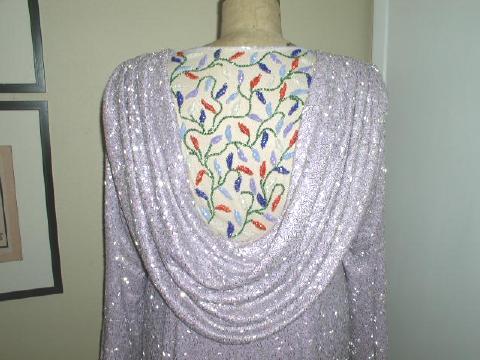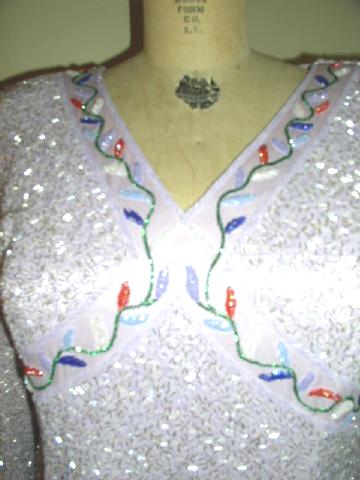 Lavender Beaded Gown by Darius Cordell- Price $800 Size- Custom but should fit sizes 20 - 24 Length- Should fit from 5'9" to 6'1" depending on heel height This gown is totally beaded in a triple vermicelli pattern that consists of two types of lavender bead and a silver bead. The neckline is banded in a hammered silk that continues under the bust line and is embroidered with a rosebud design in jewel tones of red, blue and green. This, along with the bell sleeve gives the gown an Asian feel. The back of this gown is very dramatic with a deep cowl and a nude net inset that is embroidered with the same rosebud design that is on the front. The inset is lined with an opaque nude fabric but this could be removed if desired. There is also a small fishtail train in the back. It has a side zipper which makes it perfect for competition since there is no way for a judge to clock the zipper. There are just a few places that the bead work needs some repair but they are very minor.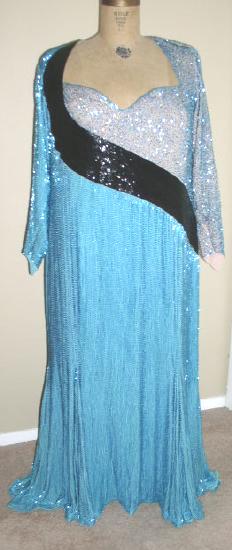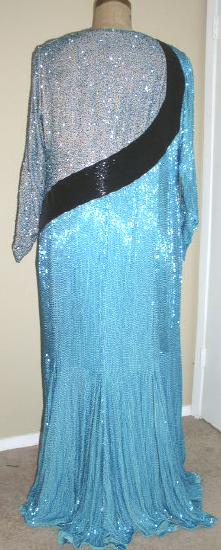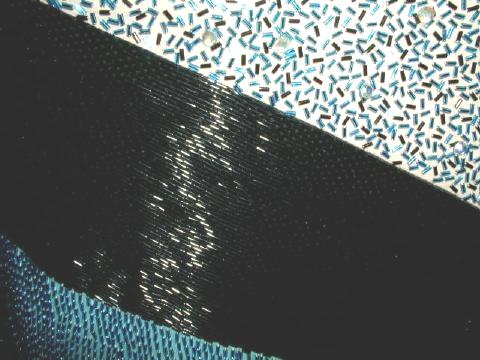 Turquoise and Black Beaded Gown by Tom Kidwell- Price $900 Size- Custom but should fit 22-26 Length- Should fit someone up to 6'2" It is a bit longer than the others. This is a very dramatic and striking gown with its asymmetric design. The turquoise half of the gown is in a vertical pattern that is not quite a close as liquid beading but has a very similar effect. The black ribbon of true liquid beading runs from the shoulder to the hip in both the front and the back for a very striking effect. The other half of the bodice is beaded in a confetti pattern of black and turquoise on a nude colored background. There are also aurora borealis rhinestones on this part of the gown for an added effect. This gown features a very full trumpet bottom that gives a great deal of movement when walking. There is a side zipper and hook and eyes at the shoulder so that the artwork on the gown is uninterrupted. The sleeve is very fitted but has zippers at the wrist. This gown is in very good condition and would be perfect for pageant wear.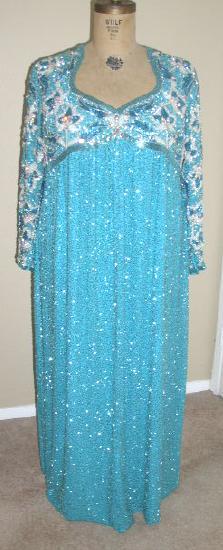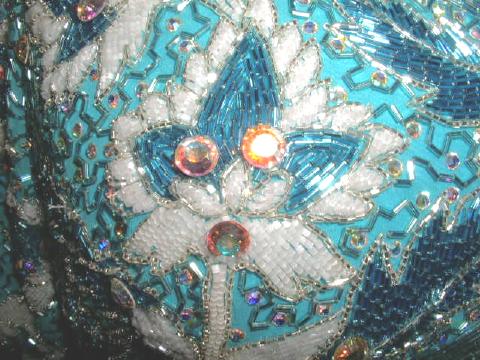 Turquoise Beaded Gown by Stephen Yerick- Price $800.00 Size-Tag says 18 but will fit up to a 24. Length-Should fit up to 6' This gown features a Queen Anne neckline and has an Empire bodice that is heavily beaded in a turquoise, white and silver leaf motif. The bodice has also been enhanced with two different sizes of rhinestones for an additional sparkle. The skirt is beaded in a heavy vermicelli pattern and hangs loosely from the body. It is very forgiving of any figure flaws. Gussets have been added under the arm for better movement but could be removed easily for a smaller fit. It is in very good condition and is another great competition gown.